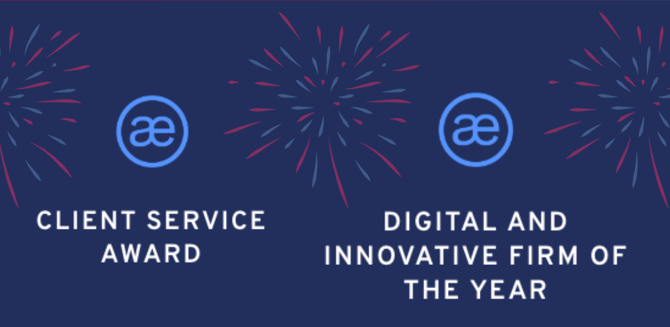 As a firm that is continuously looking for ways to grow and improve, the application process was a great opportunity for us to review how we've done in the last year, and a chance to identify the difficulties on the road ahead.
The multiple lockdowns and other restrictive measures introduced as a result of the COVID-19 pandemic meant that the awards night was hosted virtually for the first time on Wednesday 2nd December and proved to be an overall success.
Shortlisted this year for three awards (Digital Firm, Fast Track Firm, and Client Service), we were hopeful that we may be in with a chance to win at least one award. You can imagine how elated we were to come away from the evening sporting both Digital and Innovative Firm of the Year, and the Client Service Award.
As a digital accounting practice that prides itself on our dedication to client care and using technology to improve services, this is a really great end to a shocker of a year.
Watch the moments we found out we had won the awards
What the Judges said:
Digital and Innovative Firm of the Year
"Our judges said Inform have a clear sense of vision and direction. Here is a firm with clear buy in from the team that has translated into strong outcomes for clients and an excellent set of results."
Client Service Award
"In what was one of the most popular categories this year, the winner had to see off literally dozens of competitors. Our judges said Inform came out top by virtue of their clear service proposition and tech-powered focus on communication and training. The challenge of growth is understood and the strategy is clear."
A message from Director of Inform Accounting, Sian Kelly
"First and foremost, I want to say a huge thank you to my team, who are ever supportive, and continuously work so hard to deliver the high levels of client service that we have become known for.
I also want to say thank you to our clients and app partners who are always willing to help us test out new apps and processes with them - it is really appreciated!
Inform is dedicated to continually improving our service offerings, and being a pioneer for the use of fintech in the accounting industry.
With these awards under our belt, we can't wait for a brighter 2021, and to see how we can help more SMEs thrive."
Looking for an accountant that understands tech and has a proven record of client service?
Funny we should mention this… but the proof is in the pudding. We understand the importance of apps and tech in finance, and don't shy away from it - our approach to digital is that it 'enhances, not hinders'. So if you're already using cloud accounting software, or are looking to make the move to digital, we're here to help.
Our client service is award winning (just in case you missed that bit), and our passion is to work closely with SMEs to help them achieve their goals.
If you'd like to be one of those SMEs, get in touch with us today on (0121) 667 3882 to speak to our Director, or contact our Business Development Manager on (0121) 295 8884 or email him at charlie.sangha@informaccounting.co.uk to find out how we can help.
Read more of Inform's tax blogs:
Live page: Accounting advice during business disruption
It's that wonderful time of the year...for fraudsters to pray on taxpayers!
Paying yourself a salary: What are the most tax efficient options for limited company owners?
Four key cashflow issues that could cripple your business (and how to avoid them)...