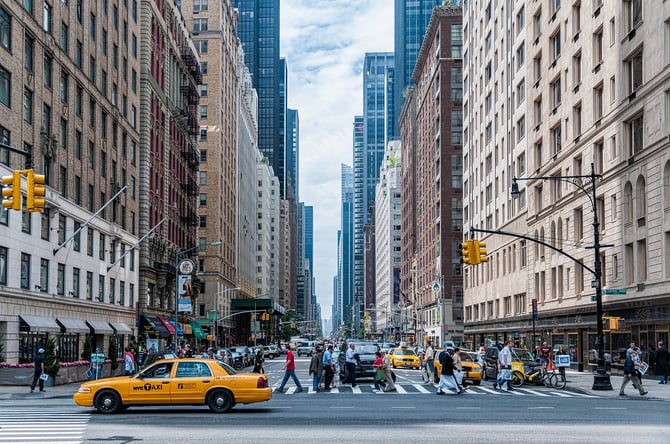 Are you an eCommerce seller with retail sales in the US?
Chances are you're thinking about indirect taxes; am I on the hook for US sales taxes?; can I file automatically or do I need support on the ground?
The US sales tax regime is no small feat to try and get your head around, so we've outlined the basics below.
UK VAT
Let's get this one out of the way first. There is no UK VAT on goods sold to B2B or B2C customers in the US.
US sales taxes
As a general rule, goods sold into a US state from outside are subject to a sales tax. Sales tax varies though from one state to the next. There is no single US sales tax rate.
Additional local government or city taxes in some states only add to the complexity!
When do I have to register?
Thresholds are set by sales value and / or by volume of transactions state by state. For example, $500k annually for California, but $100k or 200 transactions in Illinois. Such a transactions threshold may be significant to an eCommerce seller, even though the sales price may not be substantial. Some states have no sales tax at all.
You'll find the full set of thresholds here on TaxJar.
A seller will need to register with the state tax authority if it meets the threshold in that location. There is, therefore, the potential for more than one state registration.
Monthly indirect tax filing is the default, but there may be wriggle room depending on your volume of activity.
Does it matter whether I am selling via an online marketplace or my own website?
Yes!
If you are selling via an online marketplace facilitator then, as a general rule, you don't need to do anything. The facilitator will calculate, collect and remit your sales taxes, even if you don't have a state tax registration.
If you're not selling via an online marketplace then you need to register. Note that Shopify, unlike, for example, Amazon, eBay and Etsy, is not considered a marketplace facilitator. The Shopify seller is responsible for registration and for remitting the sales tax.
If you hold inventory in an Amazon fulfilment centre then you almost certainly have "nexus" in that state.
OK, I need to register. How can I make the process as painless as possible for me?
You can appoint a US fiscal representative to manually file your indirect taxes. Be mindful though, filing all of those returns by state could become costly.
In an ideal world, your sales taxes are taken by direct debit. It all happens automatically.
TaxJar is, by its own admission, "focused on solving a problem no one wants to deal with: sales tax". TaxJar makes sales tax filing easier for online sellers across the globe. AutoFile is TaxJar's automated electronic filing service for state sales tax.
Amazing! How do I sign up?
You can enrol in AutoFile if your business has a US bank account, but to set one of those up, you need to incorporate over there.
An alternative solution...
We have another solution, however, one that means that you don't need to do either of those things.
A Wise Business account has all of the functionality to set up and manage payments of US sales taxes via USD direct debit. Click here to find out more about what our partners at Wise can do for you and to start the ball rolling.
How can Inform Accounting help?
We believe a great accountant will do more than just keep your books in order. From our base in Sutton Coldfield, we work with small and medium sized businesses to ensure they make smarter decisions through a solid grip of their finances.
Top-performing companies thrive on accurate financial insight. As one of Xero's first UK partners (since 2010), we've been a pioneer in the cloud accounting model in which client and accountant work with real-time financials. So we spend less time number-crunching and more time giving great advice. We call it "Informed Accounting".
Since then we have become eCommerce specialists and work with an array of different businesses across the UK, which sell on platforms such as Amazon, eBay, Shopify, WooCommerce and more.
But whilst we are proud Xero Platinum partners, don't let that put you off if you are using QuickBooks - a number of our team are certified QuickBooks advisors too!
Get in touch
If you're in need of an eCommerce specialist and would like discuss further with our experts, just give us a call on 0121 667 3882 or email hello@informaccounting.co.uk
Disclaimer
The content of this blog is for information purposes only and should not be taken as legal advice. Always consult a tax expert in the country or jurisdiction in which you owe taxes for local legislative requirements.