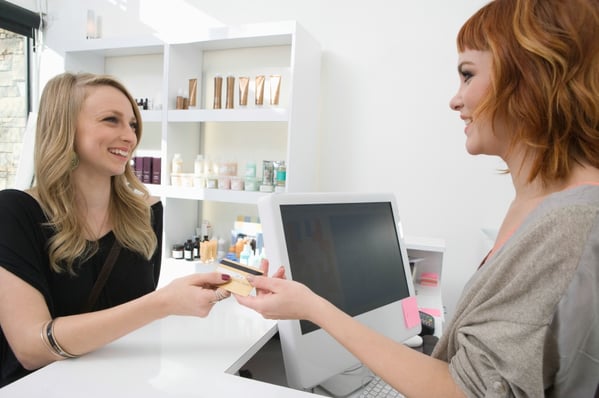 With a number of our clients based in the hair and beauty industry, we think we've gained something of a unique insight into what makes a successful salon.
So in this blog post - the first of many to come for salon owners - we've 'highlighted' some of the common habits shared by successful hair and beauty businesses, and how you can follow in their footsteps…
1 Great client retention
It is said to cost six times more to gain new customers than it is to up-sell to your current customers. So while those new-business marketing drives are great, don't forget to look after your regulars too.
If you're using proper POS software to run your salon, you should have access to a wealth of data on re-bookings - so use it to understand your customer's habits. Maybe consider a loyalty scheme to keep clients coming back more often.
2 A firm eye on the finances
Nobody gets into the hair and beauty business to satisfy their love of finance, but the best performing salons out there have dedicated time to getting their heads round cash-flow forecasting.
At the very least, make sure you know exactly how much your expenses are each month, and when they're due to be paid. This gives you a clear figure to work towards to ensure you're always in the black.
3 The basics, covered
If you think all the super-salons are making their money from high-cost treatments you can't afford to sell, think again. Most salons still rely on tried-and-tested low-value beauty treatments like tanning, waxing and manicures for their core income.
So, don't be afraid to turn your back on 'the next big thing' - especially if it would mean stretching the budget. Instead, use your POS data to discover your best-selling treatments, and shape your offering to your customers' needs.
4 A motivated team
Setting targets for your team and incentivising achievement are great ways to get the best out of your staff.
Challenge your stylists to see who can get the most re-bookings, or offer an incentive for the most products sold in a month. You should be able to track all this data via your POS software.
5 Measured marketing
For every penny you spend on advertising and marketing, you should always be thinking about return on investment - and that makes it vital that you're able to measure the success of every campaign.
Pretty much all online marketing is measurable via click-through data and analytics, but by being a bit creative you can monitor the success of your offline campaigns too. Use codes on your flyers or coupons, so that you know where each of your new customers has come from.
6 Extra insight
Last but not least, the most successful hair and beauty businesses know how important it is to dig a little deeper when it comes to financial data. Rather than running a business based on bank balance alone, many salons use the extra insight that comes with management accounts.
Management accounts aren't mandatory, but prepared every month or every quarter, they provide the all-important bigger picture on your financial status.
To discuss financial and accounting support for your hair or beauty business, please just give us a call on 0121 667 3882 or contact the team.
If you don't have POS software in your salon, we recommend you take a look at TIMELY and get in touch with Inform to discuss how to use it in your business.
click on this link to our blog to find out more.