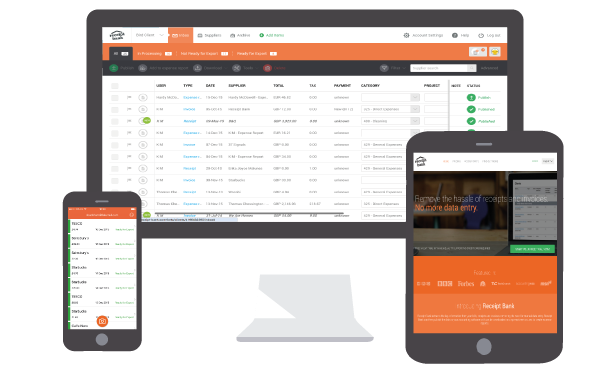 Some great news for us (and ultimately, for you too) – Inform Accounting has just become a Receipt Bank Gold Partner!

It means that when you work with us, you can rest assured you're working with Receipt Bank experts who can help you get the very best out of book-keeping technology.
For the uninitiated, Receipt Bank is a Xero-compatible application we've been working with for a while now. It's great to be recognised as one of the leading tech-savvy accountants in the West Midlands!
What is Receipt Bank and how does it help you?
In a nutshell, Receipt Bank helps you collate all your expenses data in a fraction of the time it usually takes. So, all those hours you currently spend inputting receipts, you'll be glad to know, are a thing of the past.
With Receipt Bank, you simply need to gather together your expenses receipts and scan them with your smartphone. You can also send them off in the post, scan them into an email or save them into Dropbox and let Receipt Bank pick them up there - but mobile app is the easiest.
Whichever way you do it, the data contained in those receipts (such as the date, supplier name, invoice number and obviously the value before and after tax) will then appear automatically in your Receipt Bank account. Incidentally, you can log-in to your Receipt Bank account via a link on our website, under the services tab.
With your expenses data neatly stored in Receipt Bank, it can then be exported at the click of a button to your Xero accounts – meaning we'll be able to see it too, without ever having a pile of papers to sort through.
Reasons for us to love it, reasons for you to love it – and now that we're a Receipt Bank Gold Partner, more reasons than ever to let Inform guide you towards better, brighter book-keeping!
Check out our Receipt Bank video tutorials for more information