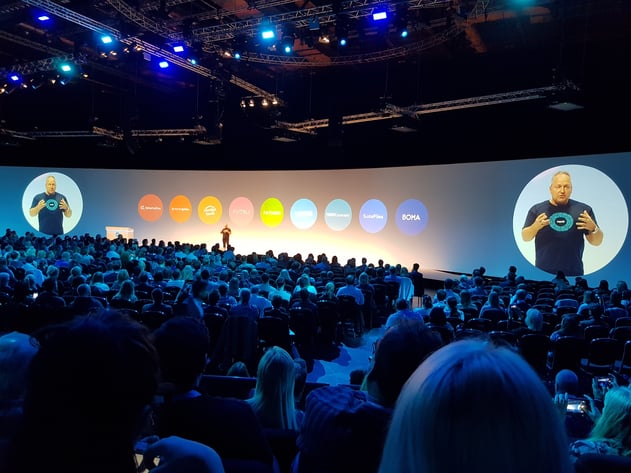 Xerocon London 2017 was the 5th year Inform has attended Xero's annual partner conference.
As always, it is a great opportunity to learn about the latest developments in Xero, as well as take a look at new Xero Add-ons. The event provides great networking along with insightful keynote sessions from experts focused on business and finance.
If you were not able to make the conference yourself, this round-up post summaries our highlights from the show along with Xero's main product announcements.
Welcome to the new Xero expenses
Based on the latest machine learning technology, Xero Expenses gives accountants, bookkeepers and small businesses all the tools they need to process expense claims, analyse spending patterns and communicate and connect with their clients – quickly and simply – on one platform. The new service is available to Xero partners in the UK and as such, Inform is able to invite clients to try the service now.
Get more productive with Xero Projects
Nearly three quarters of Xero clients operate in service-based industries and use a variety of different project management software. With billing, time recording and other finance-related activities a key part of project management, having a system that seamlessly integrates with an accounting system is what many Xero customers have been crying out for. The wait is over. Xero launched Xero Projects at this year's conference, which allows customers to be more far more productive when it comes to billing and invoicing.
Collaborate better with Xero discuss
This is a neat new collaboration tool within Xero that will enable customers to ask questions and share information with their accountant more quickly, avoiding lengthy email chains.
New bank feeds
The bank feeds functionality is an important tool for small businesses that need real time access to bank balances and transactions. Xero has now added Lloyds Bank, Cumberland Building Society and Coutts Bank, and further enhanced the feeds with HSBC and Santander.
Payroll just got simpler
Payroll in Xero isn't new, but it has been streamlined to make the management of Workplace Pensions, Statutory Leave and Payroll Year End much easier.
Xerocon 2017 key takeaways
Aside from the new features and functionality, the focus on the changing nature of the accountancy profession was a major theme. With machine learning and artificial intelligence (AI) evolving significantly, it will not be long until AI is carrying out many of the standard compliance activities that accountants have performed themselves traditionally. Such services will become increasingly commoditised in the future, which means customers will rightly expect to pay less or indeed expect more value-add from their accountant.
Making Tax Digital, the UK Government's initiative to transform the tax system by digitising tax administration was also a topic keenly discussed. For existing customers of Inform and Xero, there's no need to panic as you've already got the systems in place to ensure you comply. If you're not a customer, but concerned about the forthcoming changes introduced by Making Tax Digital, don't hesitate to get in touch.
From an Inform Accounting perspective, we were extremely proud to have been shortlisted for Xero's UK Partner of the Year 2017 at Xerocon. The award recognises partners who fully leverage the Xero suite of tools to help customers, are active in promoting the benefits of cloud accounting and continually innovate in the way accounting services are delivered. While we didn't win, being only one of 5 shortlisted accountancies from a list hundreds of UK Xero firms, was a great achievement.
Give us a call at Inform for a demo and to find out how Xero can work for your business.