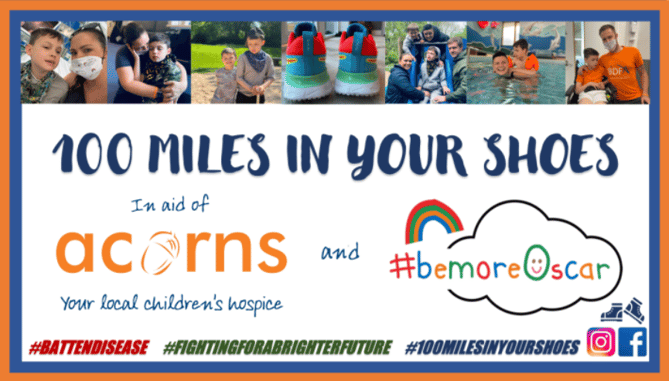 The phrase 'to walk a mile in someone else's shoes' is often used as a passing idiom, a neat and concise way of conveying the message that you can't understand what someone else is going through until you've experienced it yourself.
At Inform, it's something that we remind ourselves of all the time - you can't help a client until you truly understand what they're going through.
We're passionate about giving back to our clients and community, and supporting them in any way we can.
Although we're a bit ahead of time, on 25th July, we're joining the '100 Miles in Your Shoes' campaign to support a very brave little boy, and the son of one of our clients, Oscar.
In February 2020, Oscar was diagnosed with Batten Disease, a horrific degenerative neurological condition. Over the last 12 months this disease has taken Oscar's sight, he has developed epilepsy, his motor skills are failing, and he has lost his ability to swallow so now has a gastric feeding tube.
The Inform Team has pledged 350 miles, through walking, cycling, swimming, and other activities in support of this great cause.
You can find out more about the fundraiser and how you can donate and get involved on the links below.
Website: www.bemoreoscar.com
Fundraiser: https://www.gofundme.com/f/100milesinyourshoes
Facebook: https://www.facebook.com/bemoreOscar
If you do donate, please add 'Inform' into the comments as requested by Alex (Oscar's Dad).
It would be great if you could help raise awareness by sharing these links on social media using the hashtag #bemoreOscar.
Your donation will not only give much appreciated funds to Acorns Children's Hospice, but it will also allow the family to purchase a new hydrotherapy bath for Oscar. This piece of equipment costs over £12,000, but will give Oscar the home therapy his body needs to keep him safe and well so is it essential to give him the best care.
Follow us on social media to find out how our team get on with the challenge!
The main event...
The main event '100 Miles in Your Shoes' is taking place over 3 days from 26 - 28 August, and it would be great if you could show your support by cheering Oscar's family and friends on their journey. Details of stops on the day are below, and you can find out times and locations by keeping up to date with the facebook page (link above).
Day 1 - Thursday, 26 August
Start: 10.30am
Kingstanding Road
Priestley Smith School
David Lloyd Health Club
Meadow View School
Doe Bank Lane
Sutton Coldfield Cricket Club
Finish: 4:00pm
Day 2 - Friday, 27 August
Start: 8:00am
Sutton Coldfield Cricket Club
Sutton Coldfield Town Centre (Gracechurch)
Erdington Fire Station
NISA (College Road)
Villa Park
Camp Hill
Finish: 4:00pm
Day 3 - Saturday, 28 August
Start: 8:00am
Camp Hill
Acorns (Selly Oak)
MailBox Birmingham (BBC Radio)
Birmingham Children's Hospital
Finish: 12:00pm