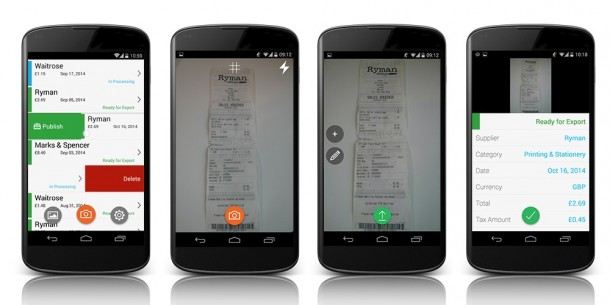 We've been big fans of Receipt Bank for a while now, and the Xero add-on just seems to get better and better. A brand new Receipt Bank App has just been launched for Android (an iPhone version is available too) - and it seemingly achieves the impossible by making expense claims...fun. OK, almost fun.
For the uninitiated, Receipt Bank is an application that links up with online accounting software like Xero to speed up the process of submitting receipts to your accountant. It replaces that old journey you had to do every few weeks or so (taking a plastic bag full of receipts to your accountant) with a slick and swift online interface that allows you to submit via email and mobile app.
We use it here at Inform, and recommend it to clients as a great time-saving tool. The mobile app makes life even easier, too.
You can take photos of your receipts on the go - in the coffee shop, or on the petrol forecourt - and submit them there and then. Receipt Bank then extracts the data from the image, with the figures feeding straight into your online accounting software.
So what's new in the latest version of the App?
Well for a start, an already-easy process has been made even simpler, with fewer taps of your smartphone screen now required to submit a new receipt. You can also submit double-sided receipts and multi-page invoices for the first time, and submit multiple receipts simultaneously.
New publishing features allow you to then publish the extracted data straight to your Xero accounts, without having to log in on a computer.
In short, it's all geared towards saving you yet more time, and making sure you never have to go scrabbling around for 'lost' expenses receipts ever again.
You'll find the new Android app in the Google Play store now - just search for 'Receipt Bank'. The iPhone app is available from the App Store.
For any help using the App or integrating your Receipt Bank account with your Xero accounting software, just give us a shout and we'll be more than happy to show you the ropes.
Submit your receipts and invoices here:
http://www.informaccounting.co.uk/receipt-bank/
Get in touch with us: