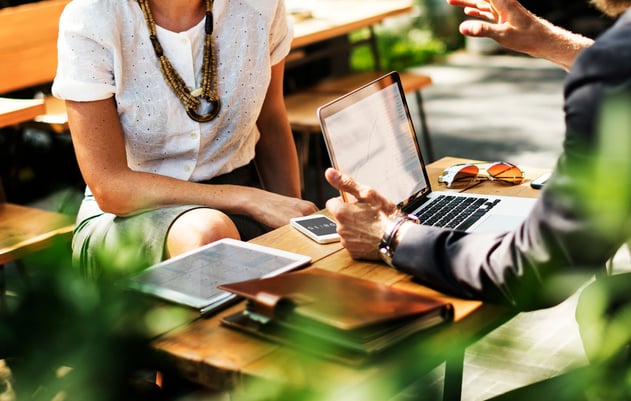 The advent of Cloud technology has revolutionised numerous aspects of business, and the fields of accountancy and bookkeeping are no exception. But if your accountant has yet to embrace this digital boom, you might just be being sold short of the many benefits on offer.
In this blog post, we'll look at how engaging the services of a cloud accountant could help save you time, money and crucially, improve your business performance year on year…
What is cloud accounting?
Cloud accounting sees your accounts stored, maintained and edited online rather than on on-premise desktop software. A simple enough switch, but one which radically transforms the relationship you have with your accountant.
That's because cloud-hosted accounts can be accessed remotely by your accountant at any given time, without you ever having to send them any data directly. You're effectively sharing your financial data with your accountant 24/7, ensuring they have a clear picture of your business performance in real time.
It's an approach known as the single-ledger concept.
Compare this with a traditional accountant, who typically only sees your business data towards the end of the year when it's tax return time, and you start to see the big benefits on offer.
Real-time collaboration
The single ledger approach means that as long as you keep your cloud accounts up to date, your accountant will need to spend far less time crunching your numbers to ensure you submit your statutory returns to HMRC.
In turn, that means more time for them to look behind the numbers - identifying patterns and trends, hidden issues that could be holding your business back, and opportunities for you to generate more profit, improve cash flow or drive up your revenue.
Imagine sitting with your accountant (who's actually an experienced financial advisor) and reviewing your company's financial position in real time with KPI dashboards. You'll be able to leverage their experience to make the right business decisions at the right times - just as if you had a CFO taking a seat at the table of your small business.
It's a major step forward from old-school accounting, which does little more than keep you compliant with the tax laws of the land. Speaking of which, even HMRC itself recognises it's time for a change…
Making tax digital
Making Tax Digital is a Government programme aimed at making taxation more effective and efficient, and ultimately seeks to end the annual tax return for millions of HMRC customers.
As part of the scheme, which is being rolled out over the next few years, HMRC is moving towards 'tax in real time' - stating that 'customers should not have to wait until the end of the year or longer to know how much tax they should pay. HMRC will collect and process information affecting tax as close to real time as possible, to help prevent errors and stop tax due or repayments owed building up.'
With even HMRC stepping up to the plate and taking advantage of real-time digital data, businesses failing to follow suit may soon find themselves left behind. The good news is, it's really simple to do.
Making it happen requires Xero effort…
If taking your accounts into the digital realm all sounds like a lot of hassle you don't have time for, rest assured that cloud accountancy platforms are designed to make your life easier, not harder.
Indeed, market leading packages like Xero are actually far more intuitive and user friendly than traditional desktop software, and can also integrate seamlessly with other cloud apps to automate time-consuming business processes like invoicing and expense management.
And with everything done online, you don't even need to install any software. That means no technical expertise required, and no valuable storage taken up on your office machines. Updates take place automatically too, so you won't have to keep shelling out on software-style upgrades…
More benefits of cloud accounting platforms:
Security: While question marks are sometimes raised against the safety of hosting confidential financial details in the cloud, it's actually a far more secure and resilient solution than on-premise systems. Privacy controls can be established to ensure only authorised access, while cloud back-up provides round-the-clock protection against data loss or theft. In other words, even if your computer were stolen or damaged, your data would still be safely stored in the cloud.
Mobile access: Another clear advantage of hosting your accounts in the cloud is the ability to access them through a range of mobile devices, wherever you can get an internet connection. Update your books on the train ride between meetings or on the commute home, saving your office hours for fee-earning or growing your business.
Reduce paper work: With expenses, receipts and invoices quick to stack up, keeping your paperwork in order is a challenge. With add-on applications for cloud platforms like Xero, you can import your paperwork straight into your accounts at the touch of a button - saving you time, and clearing those cluttered in-trays for good.
In summary
More and more businesses are switching to cloud accountancy to reap the rewards of increased insight - and even HMRC itself has realised the importance of real-time digital data. If you're still working with a traditional accountant, it's time to re-evaluate what that relationship is really costing your business…
Inform Accounting - Sutton Coldfield cloud based accountants serving forward thinking businesses in the West Midlands and across the UK. If you're in need of a new accountant with a refreshing approach to client relations, get in touch today on (0121) 667 3882 or email us at info@informaccounting.co.uk.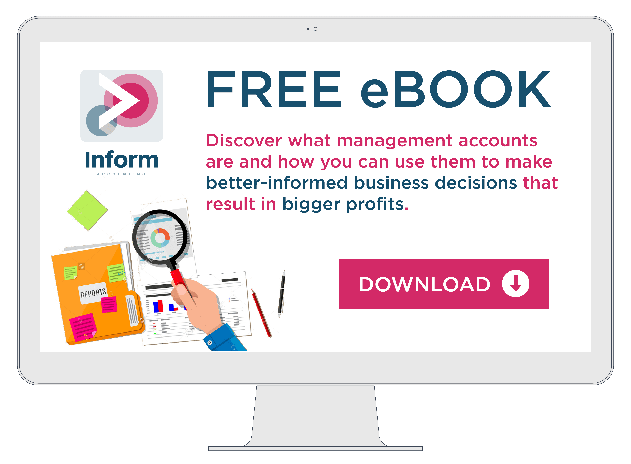 Read more of Inform's tax blogs:
How to prepare management accounts using Xero
Inform Accounting acquires Sutton Coldfield-based Jowett & Co
It's official....we're now a Xero Platinum Partner!
5 essential forecasts to improve your business decison-making