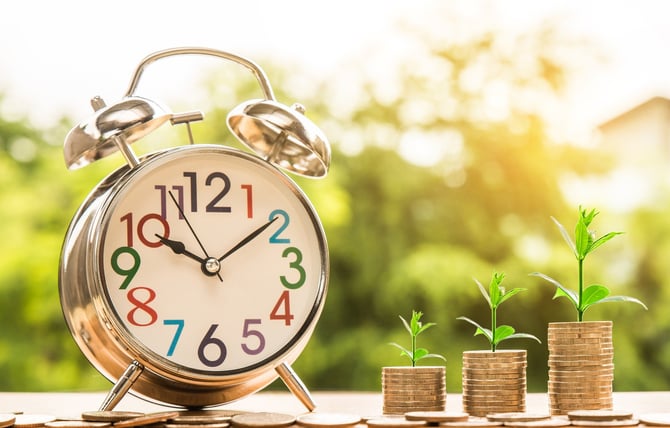 Pay As You Grow options, which allow borrowers to tailor repayments to suit their circumstances, have been made available by the Chancellor to businesses taking advantage of the Bounce Back Loan Scheme. This means businesses now have more time and greater flexibility to repay loans - a bit of good news is always welcome!
What is the Bounce Back Loan Scheme (BBLS)?
The BBLS offers a business loan valued up to 25% of annual turnover up to £50,000.
Borrow from £2,000 to £50,000.
100% government-backed guarantee.
No interest or repayment due during the first 12 months of the loan term.
Fixed 2.5% interest rate.
Why was BBLS introduced?
The BBLS was one of a set of COVID-19 government initiatives introduced at the start of the pandemic aimed at supporting businesses impacted by the crisis. The purpose of the loan schemes was to enable businesses to access finance quickly during this extraordinary period.
So what's changing?
The Treasury's PAYG repayment flexibilities provide businesses with the following options, any or all of which may be taken up:
Extend the maximum length of the loan from what was six years to 10 years at the same interest rate.
Make interest-only payments for six months, with the option to use this up to three times throughout the term.
Put entire repayments on hold once for up to six months (in addition to the first 12 months repayment holiday).
Please note that options taken will impact interest payable and/or the term of the loan.
Is BBLS still open to new applications? Who's eligible?
BBLS remains open to new applications until 31 March, 2021.
Your business must self-certify the following to your lender:
UK business activity, and established by 1 March 2020.
Not operating in the credit or insurance markets and not a public sector organisation.
Adversely impacted by the pandemic.
Not using not using the Coronavirus Business Interruption Loan Scheme (CBILS), unless the loan will refinance the whole of the CBILS facility.
Not a business in difficulty and not in bankruptcy or liquidation.
Is PAYG a good thing then?
PAYG offers greater repayment flexibility to borrowers. It looks positive for businesses.
What do I need to do now?
Nothing other than to read and understand this blog! Your BBLS lender will be in touch with you about options three months before your repayments commence.
Please ask Inform Accounting for support with funding. I (Charlie) am on hand to help you to take advantage of the full range of options. With an established career in banking, I'm here to support you with raising finance and mortgage applications (commercial property and business), business insurance and other finance solutions. You can reach me on 0121 295 8884 or at charlie.sangha@informaccounting.co.uk.
Further information
The BBLS is operated by British Business Bank. More information about BBLS, including a list of accredited lenders and partners and how to apply, can be found on its website.
Read more of Inform's tax blogs:
Inform Accounting wins at the Accounting Excellence Awards
Five furlough changes you need to know
SEISS grant to be 80% of average profits