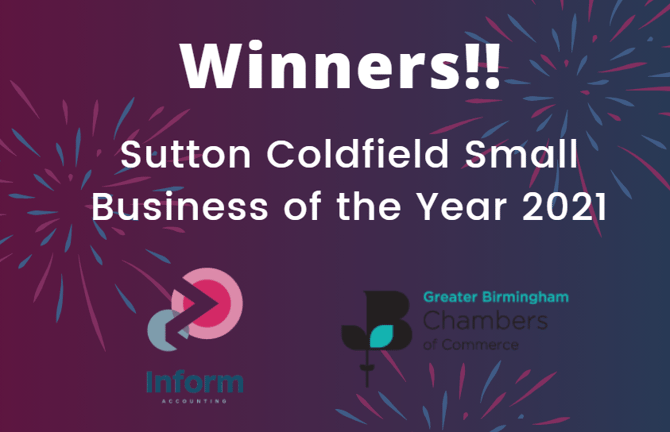 Still coming down from the high of a double win for Client Service and Digital Accounting Firm of the Year at the Accountancy Excellence Awards before Christmas, we were waiting with baited breath to find out if we'd won another award.
The award in question? Sutton Coldfield Small Business of the Year
Hosted virtually for the first time in its history, the Sutton Coldfield, Lichfield, Tamworth and Cannock Chamber Awards took place on Thursday 28th January 2021.
It was a real honour to be shortlisted against such great local businesses, and it was an even bigger honour to be selected as the winner!
What the judges said…
As part of the winning announcement, feedback from the judging panel this year paid note to our:
focus on customer service
attention to client care
dedication to client education.
A message from Sian Kelly, Director of Inform Accounting:
"In what has been an absolute whirlwind of a year, I couldn't be more proud of my team for everything we've been able to accomplish to date. The last 12 months have been challenging, but everyone has really stepped up to support our clients and it's such a great feeling.
I also want to again say thank you to all of our clients who have supported and stuck with us over the years. We hope that this gives you confidence you've chosen the right accountants to work with!
We're looking ahead to the rest of 2021 with a positive light, and can't wait to help even more businesses grow and achieve their goals."
An Interview with the Chamber
Director of Inform Accounting, Sian Kelly, sat down with Chris Brewerton from the Chamber of Commerce to reflect on the win. See the full interview below.
Looking for an accountant that truly understands your business needs?
As a small business, we know the difficulties facing many SMEs across the UK, without the added complexities associated with COVID.
Our no-nonsense approach to accounting means we cut through the jargon, and actively work with you to help grow your business and achieve your goals, both business and personal (I mean who wouldn't want to free up some time to do more of what they love?).
Get in touch with us today to find out how we can help you and your business prosper.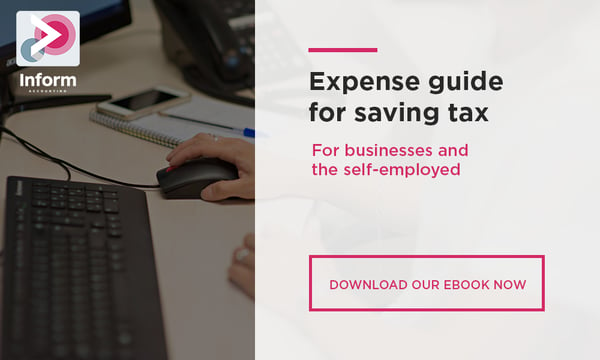 Read more of Inform's tax blogs:
Inform Accounting wins at the Accounting Excellence Awards
Five furlough changes you need to know
SEISS grant to be 80% of average profits