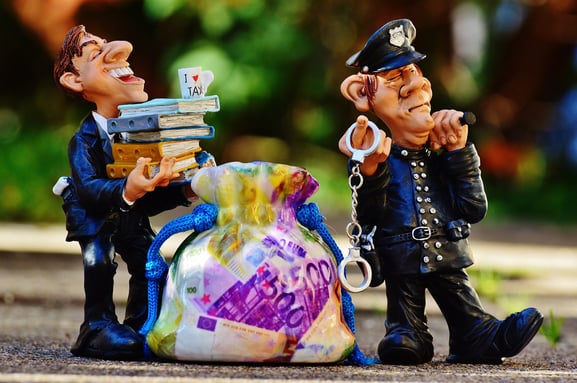 The biggest scheme of its kind in the history of the UK, the Coronavirus Job Retention Scheme has been a necessary but costly measure for the government, currently estimated at over £20bn to date. This is only expected to increase as the scheme is extended to October 2020.
The scheme has offered UK businesses much needed support in this time of crisis, but unfortunately there are always the few trying to profit from these schemes by making fraudulent claims or failing to comply with the rules.
As the new rules take effect, HMRC are now focussing their efforts on identifying and prosecuting fraudsters.
Identifying abuse of the scheme
If you have asked your employees to work whilst on furlough, wrongly claimed furlough pay for employees not on furlough, or not passed on the CJRS grant to furloughed workers you could be committing fraud under the Fraud Act 2006.
These aren't the only cases where fraud may have been committed. There are concerns that some companies may have even claimed for 'ghost employees' - these being employees on the company's payroll that either do not work for the company or do not exist at all.
Under the furloughing rules to 30 June 2020, employees were able to undertake mandatory training relevant to their job role ONLY, but were not permitted to perform any work that generated income for their employer, or carry out any administrative work.
Furloughed employees could take up a different job with an unconnected employer whilst on furlough, or volunteer for a different organisation. However, they cannot volunteer for their employer, even if they work for a charity.
Directors that have furloughed themselves may undertake administrative work that allows them to fulfil their legal statutory duties e.g. preparation of accounts etc. However, as with other furloughed employees, they must not do any work that generates income for the business. They must also not work for the company on a self-employed basis, whilst claiming furlough pay for their director's salary.
How big is the problem really?
Current estimates show that fraud may be a fairly widespread issue. As of today, HMRC have already received over 3,000 claims from employees reporting abuse of the scheme by their employers.
HMRC have previously stated that it will be difficult for them to identify all instances of fraud, and that they are relying heavily on employees filing reports (anonymously) to notify them of abuse.
The issue that HMRC face here is that:
Employees who have not been informed their employer is claiming furlough grants on their salary will not know about the abuse to report it.
As unemployment figures begin to rise, employees fear the repercussions of making a claim against their employer.
However, due to the large debts that HMRC has incurred, it is likely that some sort of 'spot checking' or investigation system will be developed to scrutinise and validate those companies that have not been reported against.
It would be unwise to think that HMRC will not investigate claims under the SEISS either.
Legislation, penalties and fines - oh my!
The Finance Bill 2020 is expected to receive royal assent some time in July, although there are speculations as to when exactly this may be. The government is currently rushing to approve amendments to the bill which will provide HMRC with powers to distribute penalties, as well as adding criminal charges.
For example, directors of companies that have claimed furlough grants and have subsequently been liquidated could even face personal liability to pay back the amounts received.
Although these penalties are targeted at companies that have deliberately made false claims or broken the rules, there is a risk that you may get caught in the crossfire.
When the scheme first opened, many employers rushed to make a claim, without checking that they had complied with all the scheme requirements. If you do feel you've made a wrongful claim, you should inform HMRC immediately. Penalties will only be applied if you fail to inform HMRC within 30 days of the new legislation being passed.
An employer who is found to have broken the CJRS rules, and failed to inform HMRC within this period will have to pay tax charges and penalties of up to 200% of the amount over-claimed.