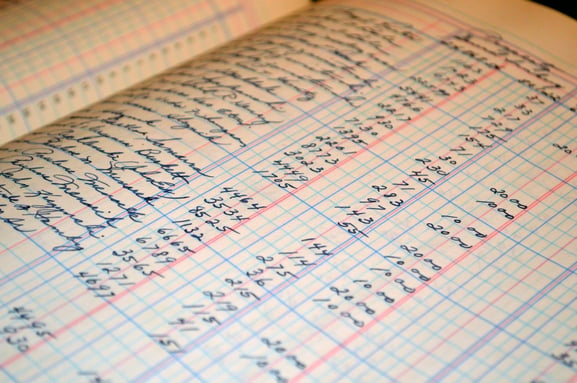 Inform Accounting was set up over a decade ago with a simple goal in mind; to help small and medium sized businesses achieve their potential.
If you ask any of our team, they'll tell you that one of our key philosophies is that we 'do not do things because that is the way they have always been done'.
Unfortunately, the sad truth for many traditional firms still on legacy systems and working on paper is that they do things because they have always been done so. The times have changed, and so have the skills and knowledge that accountants now need to deal with new digital markets and practices.
We often get clients coming to us because their old accountant just couldn't keep up. If you're reading this thinking 'my accountant has been okay so far', then that's great, but take a step back and think a little differently. Are they doing 'okay' because they're merely doing what you've paid them to do, or are they proactively going above and beyond for your business?
Never ones to do things traditionally, we've always been at the forefront of the digital accountancy world, pushing for new technology and implementing this across our clients to help benefit their businesses. It's because of this continuous drive for improvement that we have built a culture and reputation for adaptability and openness to new technology.
In this blog we'll take a look at some of the common 'sins' that accounting firms are committing, and what you can do about it.
1. 'Take a number'
In the eyes of a lot of accountants dealing with large volumes of both clients and data on a daily basis, you are a number. It's a sad fact, but one that rings true throughout the profession, particularly at large practices.
When you take on an accountant, you put a huge amount of trust in that person or practice. They are the keepers of your financial future, and are supposed to help guide you, not just in times of struggle, but also when you're thriving to help you grow and achieve your goals.
So how can they do that if they don't know you, right? Accountancy is a people's industry. It's about building strong and trusting relationships with clients so we can be your trusted advisors.
A few key indicators that you're not being given the time you deserve by your accountant are:
They only make contact with you when they either need you to do something, or are chasing payment.
They don't make an effort to get to know YOU or your business.
They offer the most basic advice
At Inform, we use technology to make all our processes slick, easy and super speedy, which frees up more time that we can spend getting to know you. Our systems enable us to act proactively, meaning we can share insights about your business before you even notice them. This also means that we can offer more tailored solutions to fit your needs - this is where the value comes from.
2. It doesn't do what it says on the tin
Sales is just that. You can be offered the world for a reasonable price, but when it comes down to the reality, sometimes the service you get just doesn't cut it.
A lack of experience and resources are the two key sins of poor service. They are the drivers of cost in a service business, and so unfortunately as the customer, you bear the brunt of inefficiencies.
A couple of easy checks to make sure your accountants can do what they say they can:
Ask them how many other businesses like yours they have experience with
If you use specific apps or specialised software, ask them if they have any experience in working with it
Ask them who will be your main points of contact - do you have one, or are there a couple of people you can go to for help if one of them is unavailable?
If you're having an enquiry call, make sure you've got a good list of questions to hand to understand exactly what you're going to get for your money so you can make the best decision.
At Inform, we adopt a 'client first' approach, making sure we get to grips with understanding your business and personal goals, so we can help you achieve them. All of our processes are designed with client service in mind, and I like to think we're a pretty friendly bunch!
As a 100% cloud practice we work with over 30 market leading app providers, and clients from all over the UK in a wide range of industries including construction, retail and manufacturing, recruitment, ecommerce and creatives to name just a few.
3. Limiting your growth
As your business grows, you need an accountant that can grow with it.
You may have originally started with some basic compliance services like annual accounts, tax returns etc, keeping costs down by doing things like bookkeeping and VAT returns yourself. As you grow, it's likely that you start to pass over those tasks you were doing yourself because you simply don't have time anymore, and are focussing on developing your business.
Now your business is really taking off, and you're looking for tax support, financial planning, and other specialised services - but your accountant doesn't offer them. What was meant to help you succeed is now your limiting factor.
We work with a number of experts in their field; tax, financial wealth planning, R&D etc so you're not just getting an accountant, you're getting an end-to-end financial solution. You'll benefit from the shared knowledge of all of our team, who have over 100 years cumulative experience.
4. Service pushing
This is one that really gets to me. Why would your accountant try and sell you a management accounts service if you're a one-man band? It just doesn't make sense! This is just one of many examples where clients have come to us having paid for services they clearly haven't benefited from.
If you're paying for advice, part of that advice should be how you can reduce your costs. Whilst it may not make the most financial sense for your accountant to tell you that you don't need one of their services, it's just good professional advice.
We will always explore options and services with clients if they are specifically asked for, but we will never push clients to take services if we don't believe they will add any value. One of our practice's core values is transparency; we're transparent in our pricing, and we're transparent in the advice we give, it's as simple as that.
5. Retro isn't cool in accountancy
Lots of accountants, trained up in the traditional mindset of pen and paper, are failing to embrace new technology and as a result are restricting their clients potential.
Modern accounting platforms like Xero and Quickbooks mean business owners can access their data anytime, anywhere. The freedom and ease of access to up-to-date information means you can make much more informed decisions.
Gone are the days of waiting until the end of the month, quarter or year to assess performance. Now, with the click of a button you can see your information live in your accounts software.
Use of things like bank feeds, which pull data directly from your business bank account into your accounts software, provide greater assurance that your numbers stack up and speed up reconciliation processes which save costs.
Doing things the old way could actually be costing you. If your accountant has to manually add bank statements and then sift through ledgers to reconcile it, this is all chargeable time but it isn't adding any value to your business.
At Inform, we don't just embrace technology, we love it! Since the practice opened in 2009, we've worked hard to be recognised in the industry as one of the leading cloud firms, and our clients benefit from our app connections and technological knowledge.
Onwards and upwards
We get that moving can be a painful process. You may be in the lucky position where you actually have a good relationship with your accountant and they're providing a reasonable service, but you're just looking for something extra that they can't give you.
If you've read this blog and it's hit a nerve, then it may be time to put loyalties aside and start having a think about what's best for you and your business. It's all business at the end of the day.
We'd be happy to have a chat with you about what you are looking for to see if we're the right fit for your business. If you're interested, give us a call on (0121) 667 3882 or email us at hello@informaccounting.co.uk to find out how we can help your business thrive.